Congratulations Manny for winning your fight against Miguel Cotto. You are really undefeatble fighter. Manny Pacquiao is really considered as an International Boxing superstar as being the first boxer to win
seven world titles
in seven different weight divisions. He is also the first and only boxer to win the lineal championship ("the man who beat the man who beat the man") in four different weight classes.
Pacquiao started his professional boxing career at the age of 16 at 106 lbs (Light Flyweight). His early fights took place in small local venues and were shown on
Vintage Sports
'
Blow by Blow
, an evening boxing show. His professional debut was a 4-round bout against Edmund "Enting" Ignacio on January 22, 1995, which Pacquiao won via decision, becoming an instant star of the program. Close friend Mark Penaflorida's death in 1994 spurred the young Pacquiao to pursue a professional boxing career.
Pacquiao's big break came on June 23, 2001, against IBF Super Bantamweight champion Lehlohonolo Ledwaba. Pacquiao stepped into the fight as a late replacement and won the fight by technical knockout to become the IBF Super Bantamweight champion (his second major boxing world title) on a bout held at MGM Grand, Las Vegas, Nevada. He defended this title five times and fought to a sixth-round draw against Agapito Sánchez in a bout that was stopped early after Pacquiao received two headbutts.
PACQUIAO VS BARRERA
Pacquiao went on to defend his title four times with expert training from Freddie Roach at the Wild Card Gym, improving his hand speed and mental preparation before the match that many consider to have defined his career, a bout against Marco Antonio Barrera. Pacquiao, moving up in weight and in his first fight ever in the Featherweight division, brought his power with him and defeated Barrera via a TKO in the 11th round at the Alamodome,
San Antonio, Texas
. Although this fight was not recognized as a title fight by any sanctioning bodies, Pacquiao was recognized as world champion by
Ring Magazine
On June 29, 2007, it was announced that Top Rank and GBP agreed to settle their lawsuit, meaning the long-awaited rematch with Marco Antonio Barrera will occur despite being the #1 contender for the Super Featherweight title of Juan Manuel Márquez.
Since Bob Arum was out on a vacation, GBP's chief executive Richard Schaefer politely declined to discuss Pacquiao's purse from the October 6, 2007, rematch with Marco Antonio Barrera (at the Mandalay Bay Resort Hotel and Casino in Las Vegas). However, Pacquiao was likely to get a purse of $5 million, plus possibly a share of the pay-per-view rights.
[

14

]
Pacquiao defeated Barrera in their rematch via an easy unanimous decision. In the 11th round, Pacquiao's punch caused a deep cut under Barrera's right eye. Barrera retaliated with an illegal punch on the break that dazed Pacquiao but also caused the referee to deduct a point from Barrera. Two judges scored the bout 118–109, whereas the third scored it 115–112
PACQUIAO VS MARQUEZ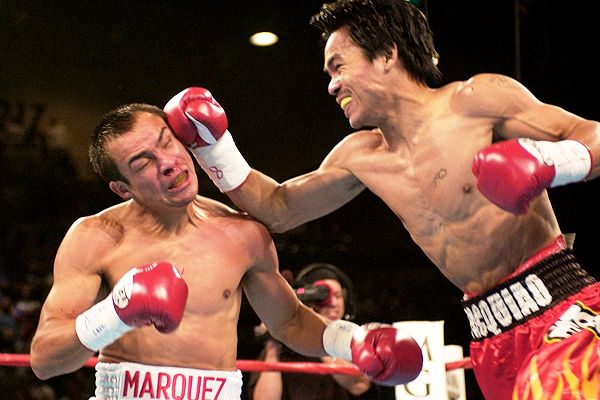 Only six months after Pacquiao's win over Mexican legend Barrera, Pacquiao went on to challenge another highly respected Mexican boxer in Juan Manuel Márquez, who at the time held both the World Boxing Association (WBA) and International Boxing Federation (IBF) Featherweight titles. The fight took place at the MGM Grand Las Vegas, on May 8, 2004, and it ended in a controversial draw that left both sets of fans feeling bitter.
On March 15, 2008, in a rematch against Juan Manuel Márquez called "Unfinished Business", Pacquiao won via a disputed split decision in a close, hard fought battle in which Pacquiao knocked Márquez down in round 3. Pacquiao won the WBC (his third major boxing world title) and The Ring Super Featherweight belts (as well as the lineal junior lightweight title), making him the first Filipino to win three major world titles in three different weight divisions (Pacquiao was a former WBC Flyweight champion and former IBF Super Bantamweight champion). Albeit, with his Ring Magazine featherweight belt, Pacquiao had arguably won four world titles in four different weight classes at this point.
During the postfight interview, Márquez's camp called for an immediate rematch. Richard Schaefer, GBP CEO, offered a $6-million guarantee to Pacquiao for a rematch. Pacquiao's promoter, Bob Arum, still stinging from the less-than-stellar revenue from Kelly Pavlik's immediate rematch with Jermain Taylor, said the fight will probably happen but only after there is time to "put a little air under it." Pacquiao, for his part, said "I don't think so, this business is over" because he planned to move to lightweight (135 lbs) to challenge David Díaz, the reigning WBC Lightweight champion at that time. Díaz won the majority decision over Ramón Montano that night as an undercard of the "Unfinished Business" fight.
PACQUIAO VS VELASQUEZ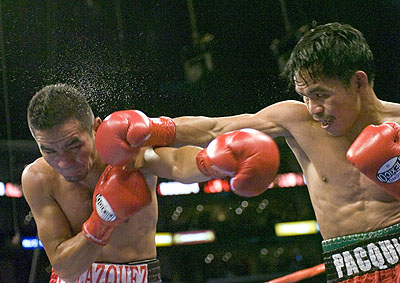 On September 10, 2005, Manny Pacquiao fought Héctor Velázquez at Staples Center in
Los Angeles, California
. He knocked Velázquez out in six rounds to capture the WBC International Super Featherweight title. On the same day, his rival, Erik Morales, fought against Zahir Raheem. However, Morales fought a lackluster performance, losing to Raheem via unanimous decision.
PACQUIAO VS MORALES
Pacquiao once again moved up another division from 126 to 130 lbs to fight another Mexican legend, three-time division champion Érik Morales on March 19, 2005, at the MGM Grand Las Vegas. However, this time around, at his first fight in the Super Featherweight division, Pacquiao lost the 12-round match by a unanimous decision from the judges.
The much-anticipated rematch between Pacquiao and Morales happened on January 21, 2006, at
Thomas and Mack Center
in Las Vegas. In that fight, Morales escaped being knocked down twice, one during the 2nd round by holding on to the ropes and the other on the 6th round by falling on the referee's body. Pacquiao eventually knocked Morales out in the 10th round, dealing him the first knockout loss in his boxing career.
Pacquiao and Morales fought for a third time (with the series tied 1-all) on November 18, 2006. Witnessed by a near-record crowd of 18,276, the match saw Pacquiao defeating Morales via a third-round knockout at the Thomas & Mack Center in Las Vegas. After the Pacquiao–Morales rematch, Bob Arum, Pacquiao's main promoter, announced that Manny returned his signing bonus check back to Golden Boy Promotions, signaling intentions to stay with Top Rank. This resulted in GBP's decision to sue Pacquiao over contractual breaches.At the end of 2006, he was named by both HBO and
Ring Magazine
as the "Fighter of the Year", with HBO also naming him as the most exciting fighter of the year.
PACQUIAO VS LARIOS
On July 2, 2006(before Pacquiao-Morales third fight), Pacquiao defeated Óscar Larios, a two-time Super Bantamweight champion who had moved up two weight divisions in order to face Pacquiao. Despite his camp's big promise of an early knockout, the fight went until the final round, with Pacquiao knocking down Larios two times during the 12-round bout for the WBC International Super Featherweight title held at the Araneta Coliseum in Quezon City, Philippines.
PACQUIAO VS SOLIS
After a failed promotional negotiation with Marco Antonio Barrera's camp, Bob Arum chose Jorge Solís as Pacquiao's next opponent among several fighters that Arum offered him to fight as a replacement. The bout was held in
San Antonio
, Texas on April 14, 2007. In the sixth round of the bout, an accidental headbutt occurred, giving Pacquiao a cut under his left eyebrow. The fight ended in the eighth round when Pacquiao knocked Solis down twice; with Solis barely beating the count after the second knockdown, the referee (who was also a doctor) was prompted to stop the fight. The victory raised Pacquiao's win–loss–draw record to 44–3–2, with 34 knockouts.
PACQUIAO VS DE LA HOYA
On December 6, 2008, Pacquiao faced Oscar De La Hoya at the MGM Grand Hotel in Las Vegas, Nevada, in a fight called Dream Match. Pacquiao asserted himself over De La Hoya from the first round till the eighth round. De La Hoya's corner threw in the towel before the start of the 9th round. Pacquiao won via technical knockout.
Presented by Golden Boy Promotions and Top Rank, Inc., the bout was scheduled as a 12-round, non-title fight contested at the 147-pound Welterweight limit. Although Pacquiao went into the fight widely recognized as the leading pound-for-pound boxer in the world, some boxing pundits had speculated that 147 pounds could be too far above his natural weight against the larger De La Hoya.Pacquiao received $15 to 30 million (share of the pay-per-view), plus a guaranteed amount. Tickets reportedly sold out just hours after they went on sale. The total gate revenues were said to be nearly $17 million dollars. That amount apparently gave the bout the second largest gate revenue in boxing history

PACQUIAO VS HATTON
On May 2, 2009, Pacquiao fought Ricky Hatton for the IBO and Ring Magazine Light Welterweight titles (as well as the lineal light welterweight title) at MGM Grand Las Vegas in Las Vegas, Nevada. The fight was originally placed in jeopardy due to disputes with both camps over the fight purse money. Eventually, the money issue was settled and the fight went on as scheduled. HBO aired the contest. Pacquiao started the fight strong, knocking down a sluggish Hatton twice in the first round. At the bell, Hatton seemed to have re-grouped, only to get knocked down for the third time 2:59 into the second round, awarding Pacquiao the win by KO.

PACQUIAO VS COTTO
On November 14, 2009 Pacquiao defeated former WBO welterweight champion Miguel Ángel Cotto of Puerto Rico by TKO in the 12th round, at the MGM Grand Las Vegas to earn his fifth major boxing world title in five different weight classes (but together with his Ring Magazine belts for featherweight and junior welterweight, Pacquiao is widely recognized to have won seven major world titles in seven different weight divisions). Even before Ricky Hatton's fight against Paulie Malignaggi last year, Top Rank promoter Bob Arum stated his desire for Pacquiao to fight Cotto. Pacquiao then gave Arum the go signal to arrange the fight after Cotto won a hard-fought decision against Joshua Clottey at Madison Square Garden in New York City.[43] Meanwhile, current WBA welterweight champion "Sugar" Shane Mosley tried to lure Pacquiao to fight him. Mosley even offered Pacquiao for a fight at junior welterweight (140 pounds), Pacquiao's weight class as of the moment. However, after unsuccessful attempts, Mosley shifted his focus to a fight against WBC welterweight champion Andre Berto.[46]
Among the details that were agreed upon for the Pacquiao–Cotto fight were the weight (both camps agreed to the 145 pound catchweight) and the purse (Pacquiao will get the 65% share of PPV buys, as compared to Cotto's 35% share). In addition, the fight would be for the WBO Welterweight title.
Pacquiao solidly defeated Cotto to become the new WBO welterweight champion, his seventh title in seven weight classes. After winning the first round and arguably the fifth, Cotto appeared to tire progressively while Pacquiao maintained his speed and power, dropping Cotto in the third. At the end of the 11th round, Cotto's own father sought to stop the fight. Cotto and his trainer, however, wanted to continue, and the HBO announcers speculated it was so Cotto could have the honor of finishing. A minute into the 12th round, however, it was clear that Cotto could not throw any more decent punches, prompting the referee to stop things.
In the 12th round of the match, referee Kenny Bayless stopped the match, awarding the match to Pacquiao by TKO due to his nearly uninterrupted domination of Cotto after the first round. With this victory, Pacquiao took the WBO welterweight title, his seventh world championship and became the first boxer in history to win seven world titles in seven different weight divisions.